These pages are archives of films at the origin of the "extreme carving" trend.
Find all the movies in high quality and new films on YouTube here.
---
Opus 2 : Extreme Dreamer
Extremecarving is not a dream, you can also realize and link such turns!
The boards used in this movie are SWOARD prototypes.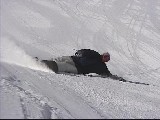 EXTREME DREAMER Duration: 5min40 Season: winter 2002
Windows Media Player version (.wmv 18.8MB) *
Quicktime 5 version (.mov 18.6MB) *
Quicktime 6 version (.mov 18.6MB) *
---
* right click and save on your hard disk