Watch the previous event!

Hello!

The ExtremeCarving Session (ECS) is approaching!



From Saturday 26 to Monday 28 January 2019 !
There are already good conditions because it has not rained above 2500m, but snowed! The slope "Barthelemy" has been opened with one month of advance in comparison to other years. And our reserved slope "Le Col" has been enlarged during summer works!
This event, organized and sponsored by Swoard, has become much more than simple test days of the brand, because we also propose our ride technique which we tirelessly explain and teach by giving our setups, tips, secrets, etc. This is probably unique among all brands. We are passionate riders above all.

The session is open to the people who want to test Swoard boards, find the proper flex of board (it's like custom choice, another specificity of the brand), take free lessons with the Swoard EC instructors or share their experience. There is also room for soft boots riders thanks to the DUAL2 model and the great freeride domain.
If you can't join, there are other events of the
Swoard Demo Tour 2019
: Austria, France, Italy, ...
Moreover you can contact one of our
11 Test Centers
.
Step 1: find an accommodation as soon as possible

If you have not booked your hotel in Zinal or Grimentz yet (the resorts are now connected by a gondola), don't wait anymore! The villages are small. Click
here
.
NEW:
-10% rebate
in four hotels:
info here
(like last year).


It is also possible to
rent an apartment for 3-4 days only
!
The estate agencies are
here
.
Step 2: read the documents and choose your package

All
details
,
activities
,
program
and
prices
can be found in the page
Events
.

See
Swoard ECS 2019 (PDF document)
.

Each participant will need a
blue package
, a
red package
or a
yellow package
, to purchase
BEFORE the event
. In Zinal it will be too late: the skipasses are sold at normal price only.
Step 3: reserve your package online or by phone

Direct link to the purchase of the packages
online here
.

You also can contact the
Reservation Center of "Sierre-Anniviers Marketing"
. It is NOT located in Zinal.
Phone number: +41 (0)848 848 027 (Mon-Fri 08:00-12:00 / 13:30-17:30)
E-mail address:
info@sierre-anniviers.ch
Step 4: add your name to the list of participants

Add your name
in the other thread with the
list of participants
to inform the Forum community about your participation.
Any question related to this event?
All questions can be asked in this thread below!
Thank you!

The Swoard team
Group photo - ExtremeCarving Session 2018: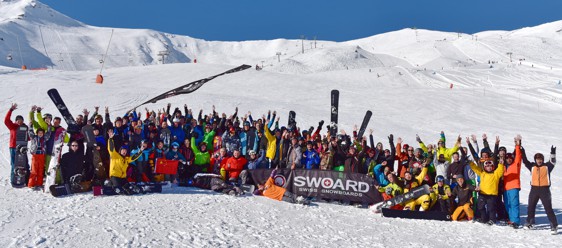 -------------------------------------------------------------------------------------

Videos - ExtremeCarving Session 2018:
YouTube film
and
download

Pictures and feedback - ECS 2018:
thread here
-------------------------------------------------------------------------------------