After you have purchased your package, here is the place to add your names and inform the Forum community about your coming to this Session!

Please copy and paste each previous message, and add your name or nickname to the list!
Or simply email us at
info@swoard.com
if you don't have an account, nor time.

LIMITED TO 120 PARTICIPANTS
:
The restaurant at 2450m for the Saturday dinner and the party is not very big. The maximum number of seats is 120. Thus we have to limit the number of participants:
first come, first serve!
Get your package early.

PACKAGES
:
Getting a package automatically gives you the registration and your seat for the dinner & party.
Read the main thread:
here (in English)
or
here (in French)
to purchase online a
blue package
or a
red package
or
yellow package
but
BEFORE the event
. In Zinal it will be too late.
The packages include:
- the skipass at better price (except the yellow package for people staying 7 days or more),
- the Saturday dinner (aperitif, menu, anniversary cake, coffee),
- the party (music played by a DJ),
- 2 mulled wine,
- 2 gifts,
- 1 ticket for the tombola (price: one Extremecarver Gen5, one Stoke, one package Swoard-UPZ EC12, …),
- the piste "Le Col" reserved for the participants,
- activities (like the free lessons).
The Swoard team
Group photo - ExtremeCarving Session - 15 years anniversary in 2018: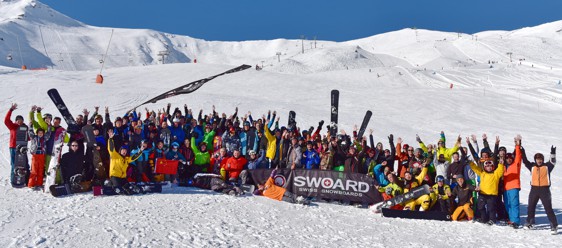 COMING TO THE SWOARD ECS 2023
# - Firstname (Nickname) / Country
1 - Patrice (fivat) + Mallorie / Switzerland / Swoard & EC co-founder
3 - Arnaud + Anthony (sorro) + Sébastien (sebhennery) / France / Swoard EC instructors
6 - Julien (l-ju) + Holly + Martine / Switzerland / Swoard EC instructor
9 - François (Le Fanfoué) / France / Swoard team and photographer
10 - Joël (joel) + Etienne / France / Swoard team
12 - Jörg (joemzl) / Germany / Forum moderator
13 - Konstantin (Konstantin) / Russia / stand assistance
14 - Julien D + 3 / Switzerland / official cameramen
18 - Yves / Switzerland / DJ at the party
19 - José (kiki) + Valérie / Switzerland
21 - Christophe (ChristopheF) / France
22 - …