Here is the place to add your names and inform the Forum community about your coming to this Session!

Please copy and paste each previous message, and add your name to the list!

RESERVED SLOPE
:
It's important that you give your name below (even if you have your own skipass), so we can justify the reservation of the piste "Le Col" for the extremecarvers (the 3 mornings!). At least 30 persons are required.

COVID-19 - IMPORTANT
:
Read the main thread:
here (in English)
or
here (in French)
.
Please respect the rules given by the Swiss government from Jan 18, 2021.
No group bigger than 5 persons, indoor and outdoor.
Respect the distances (1.5 m) and wear a mask at the lifts/gondolas.

Not an event, but a session
:
No dinner. No party. No stand. No photo group. Just carve the same slopes!
You can benefit from a better price on the skipass by purchasing online a
blue package
or a
red package
, but
BEFORE the event
. In Zinal it will be too late: the skipasses are sold at normal price only.
It's possible to book a demo board
BEFORE
the event. Please read the main thread.
The Swoard team
Group photo - ExtremeCarving Session - 15 years anniversary in 2018: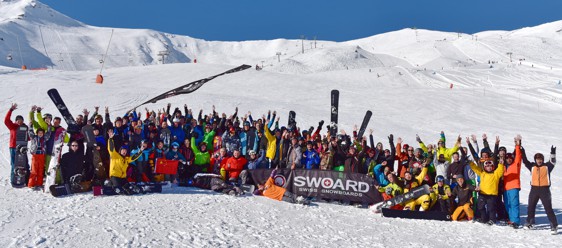 COMING TO THE SWOARD ECS 2021
# - Firstname (Nickname)
1 - Patrice (fivat) + Mallorie / Swoard & EC co-founder
3 - Arnaud + Anthony (sorro) / Swoard EC instructor
5 - Julien (l-ju) / Swoard EC instructor
6 - François (Le Fanfoué) + Joël (joel) + Etienne / Swoard team
9 - Christian (Cric)
10 - José (kiki) + Valérie
12 - ...