Here is the translation of my
review
posted in the French Forum (special thanks to yomama).
-----------------------------------------------------------------------------------------------------------
Winter is just around the corner and I have many inquiries about the bindings that we use

As promised, here is the review.
To the visitors of this Web site, we would like to recommend two high performance bindings models for extremecarving (tested and approved!):
a

top of the line

model: the Bomber TD2, used by Jacques (with custom

tunings

), can be found on www.bomberonline.com (USA) or www.oxess.ch (Switzerland, German language).
a more economical model

in sales in ski/snowboard shops

(or online on

Blue Tomato

, Austria) and tested by yours truly to prove that they are a fit for extremecarving
For 4 years, I used the HEAD Stealth DNA. To be accurate, it was before 2003, they were made by BLAX... which was then bought by HEAD which kept the same design but with different color. During the 2004-2005 season, I switched to the F2 Race Titanium which is very similar to the HEAD/BLAX. Meanwhile, HEAD discontinued the production of those bindings. That's too bad for them!
F2 Race Titanium bindings: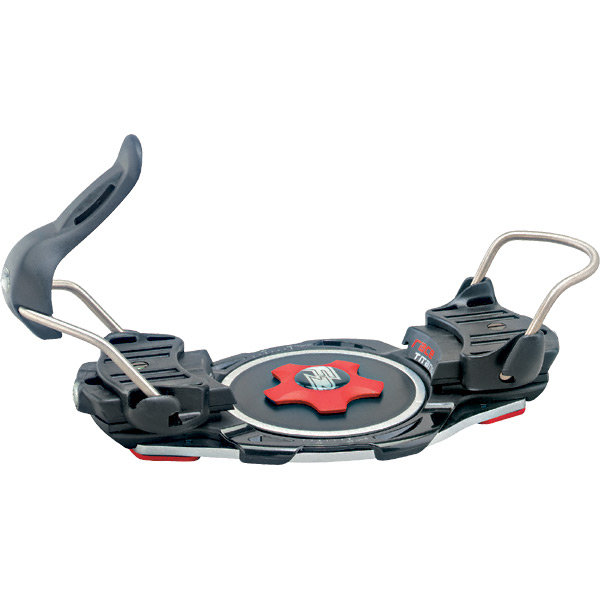 Comparison F2 vs. HEAD: they are very similar!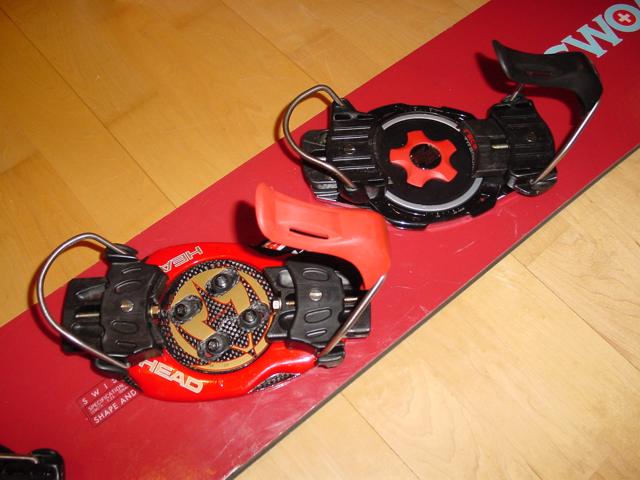 Note, the bails are identical.
But the F2 have a 5 mm diameter vs. HEAD 4.5 mm.
This winter I will continue to ride with those F2 bindings. That said, I also plan to use the Bomber TD2 with some
custom tweaking
(thanks to Jacques for the great job). This could be a subject for another thread which has been discussed at length by Jacques:
TD2 test
.
Note: the Swoard team exclusively uses standard bindings and not Intec ones (or Step-in) that are too stiff laterally for extremecarving (remark: we do not use canting nor high bindings angles). The Intec are also very poor to vibration absorption...

Well, back to the F2 Race Titanium review!
General impression: I love them!
They are even better than the HEAD, which I no longer use. From now on, I would like to recommend the F2 for the economical purchase option (for 219 Euros on
Blue Tomato
, they are not really cheap and the price has increased since last year from 189 Euros, grrr!). They work very well for extremecarving on good snow.
Detailed impressions:
I would like to pick where Jacques left off (see
this post
and
this post
in the French Forum) and complete his small review.
I would like to confirm the followings:
Compactness. The plastic levers are identical to HEAD and the best I have ever tried. They are very close to the boots which is essential for front side laid turns. With other bindings, I touch the snow, which is unpleasant on hard snow or icy conditions.
The bindings are also very low which is excellent. From our experiences, the bindings that are too high are not recommended for extremecarving. The lever's arms which transmit the forces to the edges during a carve are too large. Some feels to the snow are also lost as a result. Note that Jacques brought down his Bomber TD2 bindings by 3 mm and he felt the improvement right away!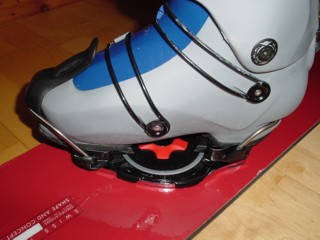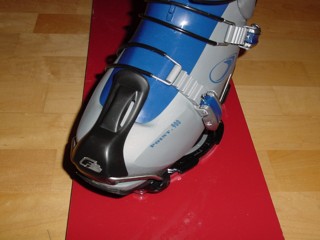 Other positive points:
They can be mounted and tuned quickly.
I felt that more power was generated compared to the HEAD and this translated into carving with even more authority on the snow This can be explained by the larger bails diameter (0.5 mm more): F2 bails are slightly stiffer.
This model is widely available in store (well in Europe…) and parts are quite easy to find. The old HEAD bails can be used since they are identical but are a bit more fragile (4.5 mm instead of 5 mm).
Negative points:
On icy or very hard snow, a bit of "wobbling" ("woolliness") can be felt as Jacques said. This is typical to this type of bindings (without a central disk) which prevent the board to bend in a nice arc for carving or extremecarving. To my surprise, I lost the rail on ice for a few occasions while Jacques carved by me without any problems on his TD2. Maybe the very economical F2 Carve RS has a softer base and would be able to flex under the bindings. We should test it...
The bails started to rust only after a day!!
A Forum member broke a bail after a season. For me personally, I did not break one after 20 days with those bindings. But I do expect them to break eventually. The HEAD/BLAX bails broke 2-3 times a season, but this is due to their smaller diameter of 0.5 mm.
On occasions, the front bail may be stuck in the plastic base as shown below and prevent the bail to close. The work around is to pinch the bail with your hand while moving it. It's not big deal but it's a disappointment from a maker like F2.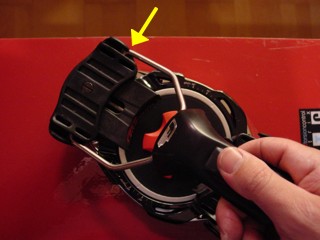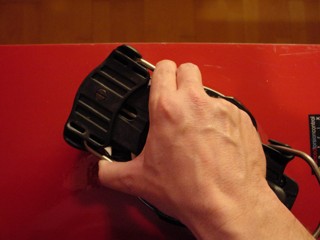 Last note: those bindings are also popular with racers (they called it "race" with a purpose in mind

). Swiss racer Heinz Inniger won the World Cup parallel slalom last October 16th in Sölden (Austria)... with those bindings (standard model).
Patrice Fivat